Welcome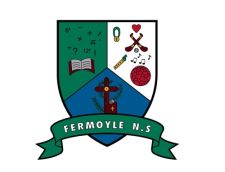 Principal's Welcome
Fermoyle National School welcomes 4–12-year-old children from the local community of Fermoyle, Lanesborough and surrounding areas.
Our school is a fantastic place to learn, achieve and thrive. Our staff aim to deliver the curriculum in a spacious site with excellent resources and a happy purposeful atmosphere.
Hot meals are provided at lunch time each day and we have afterschool and homework clubs available.
Outside we have a large field, astro pitch, basketball court and agility playground. Excellence in PE, Sports, Music and Drama are particular strengths of the school. Each Christmas the whole school showcases its talents with a combination of Musicals, Nativity Plays and sketches.
Our school has a Catholic Ethos and we strive to instil our children with core values including honesty, co-operation, love, respect and kindness.
If you wish to visit our school or require any further information, please contact our office to arrange an appointment.
Patricia Boyce Principal
Fermoyle NS Facebook page
Slideshow

Upcoming Events...
Thursday, 14th December 2023
Christmas Concert
Wednesday, 17th January 2024
County Photos
Wednesday, 10th April 2024
Confirmation
Saturday, 11th May 2024
First Holy Communion